Helping you connect to the
anytime, anywhere customer
Increase registration rates and conversions.
Deliver personalized customer experiences across touchpoints.
Manage customer identities, profiles, preferences and consents in all touchpoints
Knowing who your customers and leads are, and what they want, is what fuses great omni-channel experiences. Consistency and trust are vital ingredients, because disconnected experiences or the lack of trust puts customer loyalty at risk.
Brands must be able to identify your customers in all touchpoints, and provide them with an easy and secure platform for them to share and manage their personal data and consents with you. RubiqCloud can help you do just that.
Access customer data anytime, anywhere
RubiqCloud is a SaaS platform built for small and medium enterprises operating under GDPR. With RubiqCloud you have real-time access to customer data across any channel, device or application.
Single Sign-On
Give your customers an easy, secure and consistent single sign-on across all digital channels using standard and/or social registration.
Consents
Collect and manage any type of consent or policy from any touchpoint. Create workflows to support data access requests under GDPR.
Preferences
Understand customer preferences, needs, and expectations to build personalized, engaging, and meaningful experiences.
Profile
Build and manage customer profiles, preferences, and consents. Integrate to third-party web, crm, and marketing automation systems.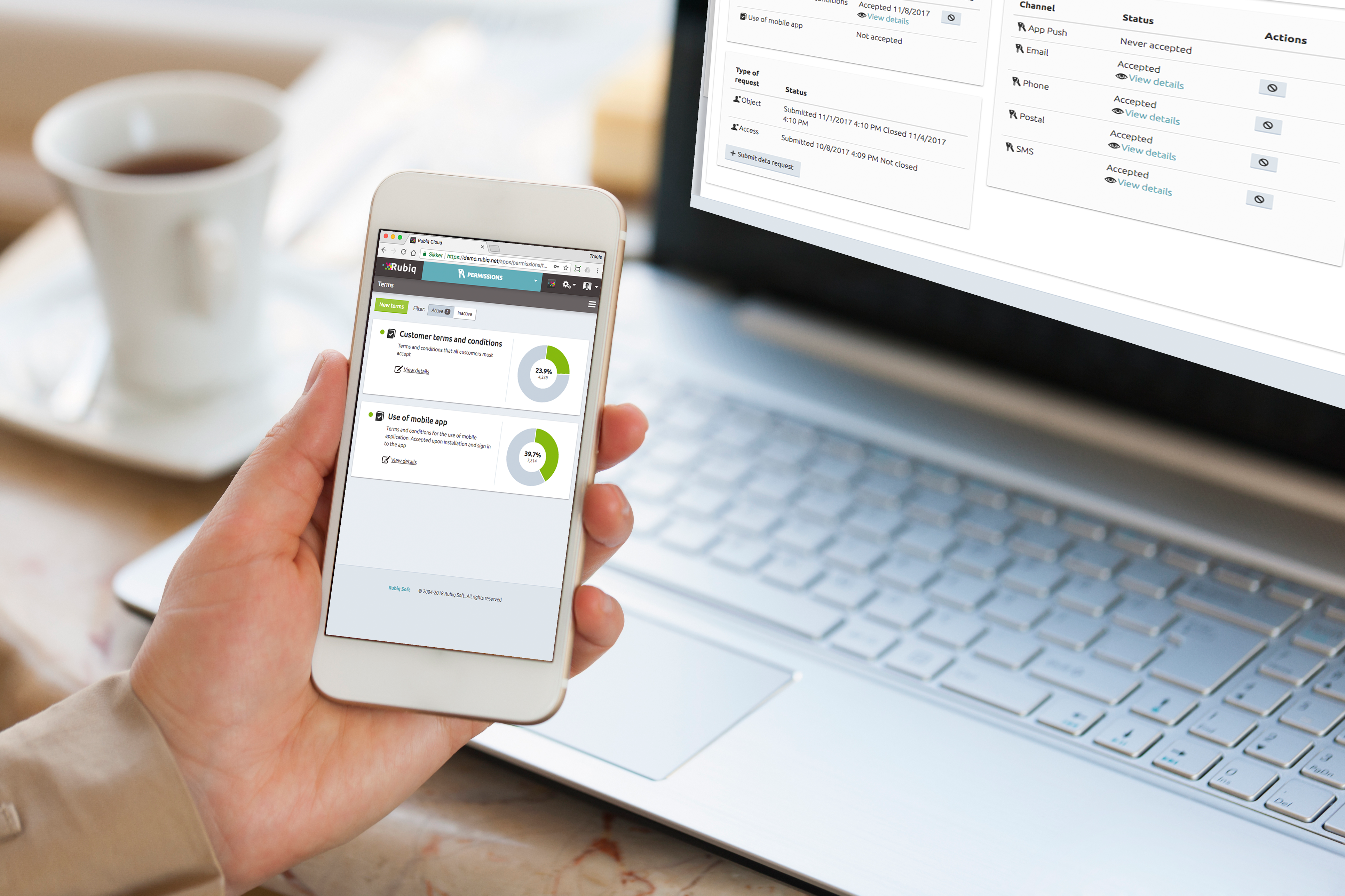 Give your customers choice and control
Fluid can help you design and deploy a best practice personal data and consent management solution, and we can help you cleanse and perform conversion on your existing customer database.
The customers are making the rules, and with GDPR they have gained ownership of their personal data. Companies are only lending the data for a limited time and use.
Companies must adapt to a new, flexible and transparent personal data and consent management model to build trust and to fully exploit the opportunities of omnichannel personalization.
Seeing GDPR compliance as an integrated part, the model should be customer-centric, empowering customers to manage their personal data and consents. It must be easy to access and should support data access request under GDPR, such as the right to be forgotten.
Why choose RubiqCloud?
Software alone isn't the answer
Fluid can help you onboard with RubiqCloud, or you can use the fully developed SDK.
Collect and use any type of consents, preference and profile data
Get real-time access to  data in any channel or device via API
Use customer data for personalization in any touchpoint
Supports B2B and B2C business models
Integrates to existing business systems
Secure and scalable, ISAE 3402 &  3000, GDPR compliant
Easy onboarding and flexible pricing model
Har du tænkt over, hvor meget tid du bruger på at sætte e-mail kampagner op,…